NEWS: G3 Systems to provide a Modular Field Hospital to Belgian Ministry of Defence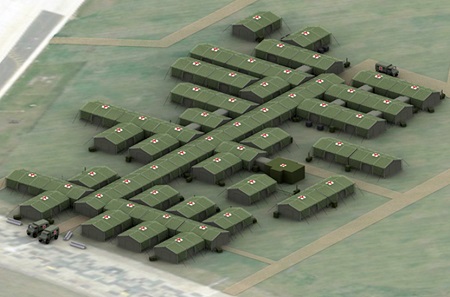 G3 Systems, in partnership with French shelter manufacturer Utilis S.A.S, has recently won a contract to supply the Belgium Ministry of Defence with a modular, deployable Field Hospital. The competition also included bids from Saab and a Dutch-US team of 4 Lutions & Alaska Shelters.The initial procurement, valued at some US$13.2M, will provide a Role 2 Enhanced Field Hospital, comprising some 54 tents, a medical incinerator and medical equipment ranging from stethoscopes to x-ray machines and a telemedicine system. An additional 19 tents were procured to form the basis for a Role 2 Basic Hospital.
G3 Systems will provide the medical equipment and incinerator whilst Utilis will manufacture the tents and provide the supporting infrastructure. Production will commence in June with delivery to be completed by March 2021. All hospital infrastructure and medical equipment will be consolidated and packaged at Utilis' facility at Ennery, near Metz in north-west France prior to delivery into Belgium. The value of G3 Systems' share of the initial procurement is US$7.2M. We also expect additional equipment purchases in the future to fit out the 19 shelters for the Role 2 Basic system.
A full set of technical documentation will be compiled by G3 Systems and training will be provided to the Belgian Armed Forces end user.
Following the completion of the initial equipment procurement phase, a 10 year support service will commence. This will see G3 Systems provide a team of deployable, Field Service Engineers (FSEs) to provide maintenance support for the Belgian MOD on training and operational deployments, coupled with routine maintenance, spares provisioning and options for further equipment procurement. The anticipated value to G3 Systems is US$4M, operational and training deployments may see this increase.
G3 Systems' Capture Manager, Andy Francis said: "We have worked with Utilis on past projects and were delighted to see the team win this tender. G3 Systems' ability to source and procure the medical equipment for the hospital and our experience of deploying FSEs into hostile operational areas were the capabilities Utilis needed to build the winning team. We are now looking to market this capability to other militaries seeking deployable field hospital capability solutions."
NEWS: G3 Praised for Ground Emergency Response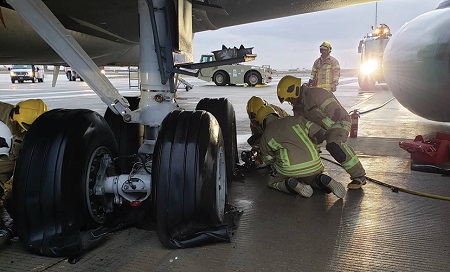 When a Heavy KC 135 blew 8 of its tires at 3:11 on a Saturday morning on a particularly aggressive landing the KAF G3 Emergency Response team were ready to roll. Responding in only 2 minutes the G3 Fire Crews were able to quickly assess the situation, set up incident command and assist in the safe recovery of the plane.
LT Col Kidd of the US Air Force wrote "a few words to express our gratitude for Leon and the entire fire/rescue/crash team for their response and assistance during yesterday morning's event involving the KC-135 and its 8 blown tires. Our 4 hour 28 minute resolution of the incident was possible because of the professionalism and assistance of your personnel, to include providing hot coffee, tea, and cookies to the additional responders who were working in the cold, wet conditions of yesterday, early morning."
NEWS: 18th Building handed over to DIO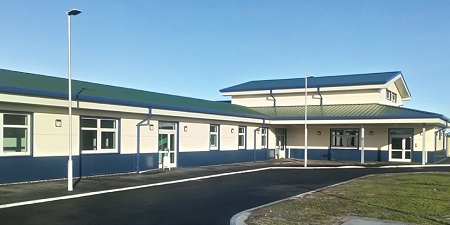 On 27th September 2019 G3 reached an historic milestone with the 18th facility handed over to the DIO in the shape of the Mount Pleasant Primary School on the Falkland Islands.
Started in 2016 the school is a replacement for the existing building at Mount Pleasant that was constructed after the Falklands War ended in 1982.
Now way past its useful service life G3 tendered and won the contract to build the replacement which is a high tech building with ultra-modern facilities throughout including interactive whiteboards in every room and a state-of-the-art building management system controlling the ambient temperature of each of the 5 classrooms all year round.
EVENT: DVD 16th to 17th September 2020
Come and meet us on Stand C4-401, Millbrook, Bedfordshire.