NEWS:  G3 Systems article in International Fire & Safety Journal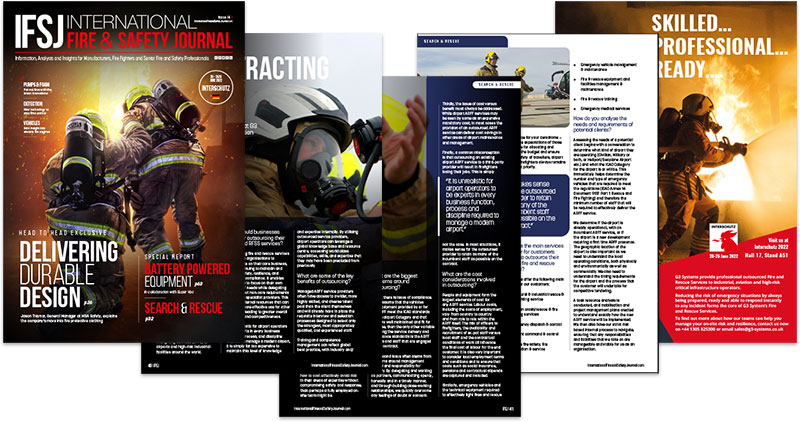 G3 Systems Business Development Manager Chris Thain talks outsourcing aviation fire and rescue services. Click here to read the full article.
NEWS:  G3 Systems awarded Cyber Essentials Plus certification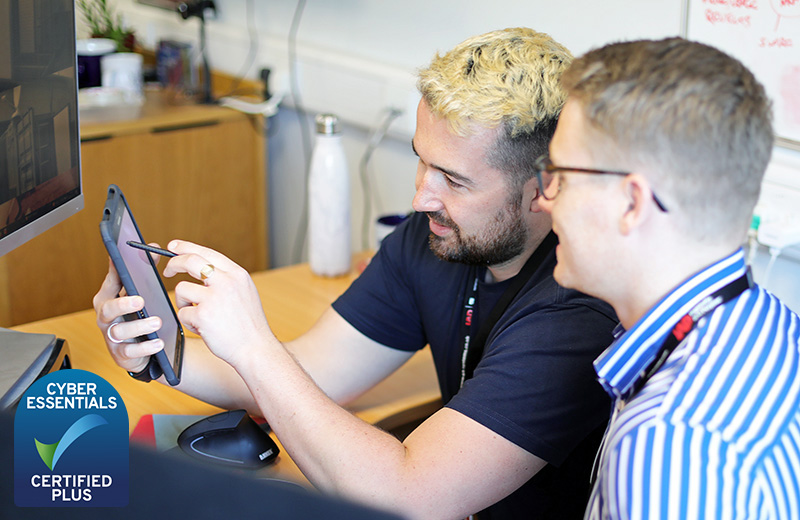 G3 Systems Limited is pleased to announce that it has gained Cyber Essentials Plus accreditation, in recognition of its secure IT systems. This certification clearly demonstrates G3 Systems commitment to data security, providing further assurance to clients and partners.
Cyber Essentials is a UK government-backed framework scheme created in 2014 and supported by the National Cyber Security Centre (NCSC). The scheme is designed for all organisations as cyber-attacks can impact businesses of all sizes, industries, and sectors and sets out five basic security controls that can protect organisations against 80% of common cyber-attacks.
Cyber-attacks are increasing both in frequency and sophistication. Achieving Cyber Essentials Plus shows G3 Systems commitment to reducing the risk of IT security breaches. Very few organisations have achieved this important accreditation, which places G3 Systems at the top of the defence manufacturing sector regarding information technology and Cyber security.
Surprisingly, most cyber-attacks are usually carried out by an individual attempting to breach the information system of another organisation, using five primary methods. The basic self-assessed Cyber Essentials scheme details the five security controls designed to prevent cyber-attacks and guard the organisations internet connection, devices, data, and services. These controls include boundary firewalls, secure system configuration, control user access, patch control, anti-malware, and phishing protection.
Cyber Essentials PLUS has the same control requirements as Cyber Essentials, however, the critical difference is that Cyber Essentials PLUS also requires an on-site security vulnerability assessment by an experienced independent IT security consultant, which included a stringent 2 -day IT audit at G3 Systems headquarters in Portland, Dorset, UK.
The security testing at G3 Systems covers all Internet gateways, all servers providing services directly to unauthenticated Internet-based users and representative sampling of devices that connect to the Internet. This ensures that security measures are operating properly and are sufficient in protecting cyber threats against the company.
The Cyber Essentials Plus accreditation will bring many benefits to G3 Systems, including greater protection against the most common cyber-attacks, an increased trust, credibility and reputation with stakeholders and notably new business opportunities with our Government and Defence sector clients.
NEWS:  G3 Systems exhibiting at Interschutz 2022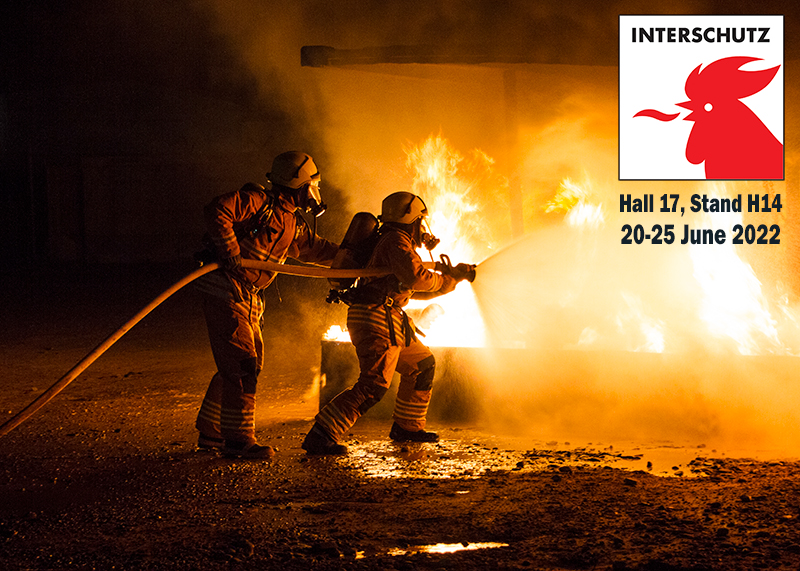 G3 Systems Limited is pleased to announce that it will be exhibiting at Interschutz 2022, the world's foremost fire, rescue, civil protection, and safety/security trade show, from June 20-25, 2022, at the Deutsche Messe Hannover, Germany. Interschutz was last held in 2015, however the show was sadly postponed in both 2020 and 2021 due to the global Coronavirus pandemic.
Joining around 1000 other companies from 50 countries, G3 Systems will be presenting its outsourced fire and rescue service capability to industrial, aviation and critical infrastructure customers from around the world.
With around 160,000 visitors expected to visit the show over 6 days, G3 Systems will demonstrate how its 24/7 Fire and Rescue Services can minimise risk and improve on-site safety; protecting staff, visitors and facilities while enabling operations to continue in full compliance with national and international fire and safety standards and regulations.
Based in Portland UK, and currently celebrating 20 years in business, G3 Systems is a market leading provider of outsourced fire and rescue services, engineering & service solutions covering deployable and fixed infrastructure and systems, and support services.
G3 Systems Fire & Rescue Services include structural and aviation rescue and fire-fighting services, emergency dispatch and response, incident command, fire safety, fire inspection and investigation, equipment and vehicle maintenance, testing and compliance, firefighter training and Medical Crash Crew / Ambulance Services. In addition, G3 Systems provide waking watch services and client training in emergency response procedures, as well as through-life logistics support via mobile Field Service Engineers and forward deployed support staff. Over 80% of its personnel work at its client's facilities around the world.
If you are attending Interschutz 2022, G3 Systems cordially invites you to Stand H14: Hall 17, where Chris Thain, Business Development Manager – Fire and Rescue Services and other G3 Systems staff will be on hand to discuss your emergency response and resilience requirements.
NEWS: G3 Systems supports Helicopter Search and Rescue services in the Falkland Islands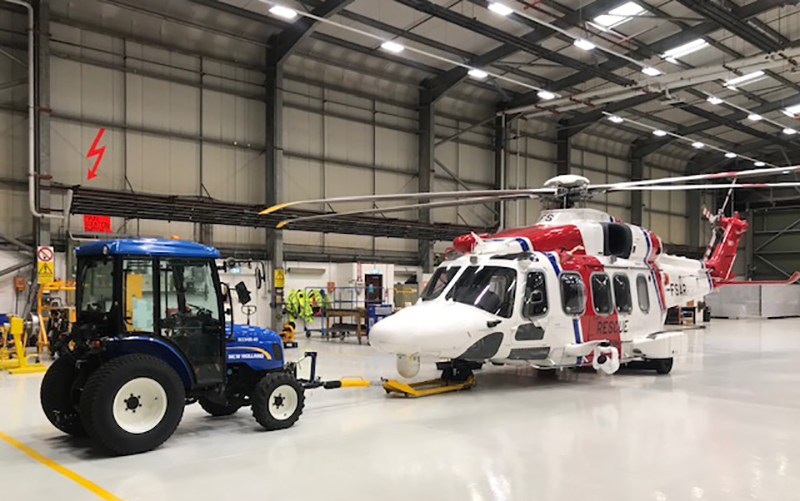 G3 Systems has recently completed its first field service visit to British International Helicopters (BIH) at Mount Pleasant Airfield in the Falkland Islands. The purpose of the visit was to provide condition assessment surveys and servicing of essential Ground Support Equipment (GSE) for two Search and Rescue (SAR) Helicopters based on the Islands.
BIH, the largest UK-owned helicopter operator, works on behalf of the UK MOD's Defence Equipment and Support department to provide search and rescue support to the British Forces South Atlantic Islands operations. BIH operates two AW189s in the Search and Rescue role and two S61N Support Helicopters on the Islands.
The SAR service is operational 24 hours a day, 365 days a year and carries out all-weather search and rescue, helicopter emergency medical services, rescue hoist operations, passenger and cargo transfers and night vision imaging, in extremely challenging environmental conditions. The Support Helicopter Service provides the military garrison with helicopter transportation of both personnel and equipment throughout the Islands.
Maintenance, logistics and operations for the Helicopters are managed by BIH, who contracted G3 Systems to provide on-site field-based maintenance and servicing support for the GSE. G3 Systems conducted a condition assessment of each piece of equipment before undertaking a full service as part of the equipment maintenance scheduling.
Tools and necessary spare parts were shipped to the Falkland Islands prior to the departure of the G3 Systems Field Service Engineer. Upon arrival and after completing a mandatory CV-19 quarantine, the G3 Systems Engineer set about locating, assessing, and servicing the equipment in accordance with the OEM's approved technical manuals. The GSE includes three New Holland tractors, towbars, Ground Power Units and testing systems, hydraulic jacks and pumps, pressure washers, diesel generators, air compressors, and hangar floor scrubbers.
A servicing schedule has now been developed and agreed with BIH, and further visits are planned to maintain the operational effectiveness and safety of the GSE in the future."
Image Caption: Falkland Island Search and Rescue (SAR) capability provided by BIH with Ground Support Equipment serviced by G3 Systems.
NEWS: G3 Systems article in Emergency Services Times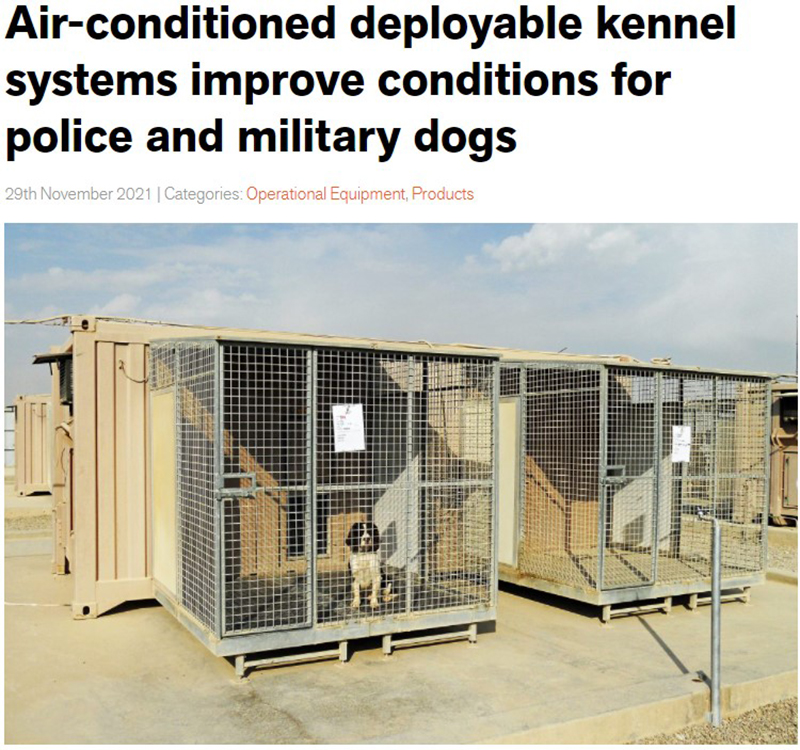 Specially constructed deployable dog kennels have been designed by G3 Systems Ltd to improve the living conditions for law enforcement and military working dogs.
To access the full article please click on the logo below.

NEWS: G3 Systems enhances the Royal Navy's Forward Support Unit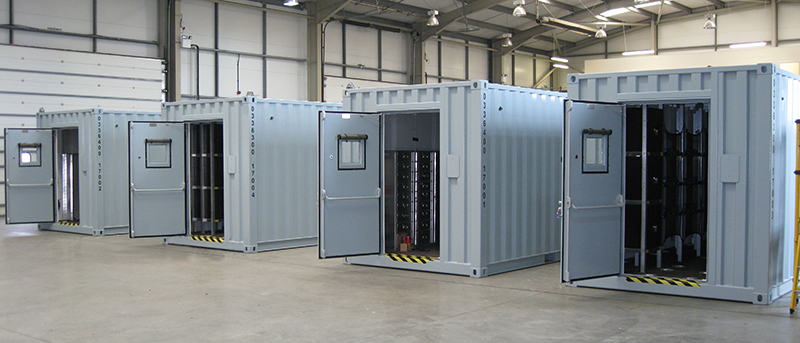 G3 Systems has recently completed a successful 5-year programme for enhancing the Royal Navy's Forward Support Unit (FSU).
Currently situated at HMS Jufair in Bahrain, the FSU's Containerised Engineering Support Facility (CESF) systems are designed to offer deployable, modular container systems that provide storage and engineering facilities to conduct Level 2 maintenance supporting the availability of the Royal Navy's Mine Counter Measures Vessel (MCMV) fleet.
Support Mine counter measures
The role of the MCMV fleet is to search the world's seabeds for mines and lost explosives which are then destroyed by the ship's clearance diving teams or its SeaFox Mine Disposal System. The vessels' sonars are capable of detecting and classifying an object the size of a football at depths of up to 1,000 metres.
Deployable Containerised Engineering Support Facilities
While operating in UK and foreign waters, the current UK fleet, consisting of six Hunt class MCMV and five Sandown class Mine Hunter vessels, is supported by two CESF systems designated CESF 01 and CESF 02.
Each system is comprised of a set of containerised workshops, offices and stores which can be independently powered by a single Power Generation Module (PGM).
Each module is designed so that it can be rapidly deployed by either land, sea or air and must be fully certified under the Convention for Safe Containers (CSC) and for flight by the MOD's Joint Air Delivery Test and Evaluation Unit (JADTEU).
Each FSU CESF comprises up to 20 specialised containers including stores, workshops, offices, combination units and power generation, with units including communications, ablutions, electrical maintenance, shipwrights workshops, small arms management, a light machine shop, refrigeration and a lifting and slinging store. The units also contain first aid and safety equipment including a first aid kit, eyewash and fire extinguishers.
Cost savings, life extension and regulatory compliance
The objective of the G3 Systems programme was to extend the life of the CESF systems, ensuring full legislative and regulatory compliance and enhancing the safety of the facility. Through the improvements and standardisation of CESF equipment and components, G3 Systems were able to reduce maintenance costs and improve management of the support logistics, enabling further savings to be made.
Nick Broom, G3 Systems' Operations Director, commented "We have enjoyed a close working relationship with the RN FSU over the past 5 years and are proud of the CESF systems we have delivered. The CESF systems provide a modular, deployable capability that can be adapted to a broad range of operational requirements and we look forward to working with the RN to develop their future capability through programmes such as NavyPODS."
Image Caption: The Royal Navy's Forward Support Unit (FSU) after complete refurbishment at G3 Systems integration facility at Portland, Dorset, UK.
NEWS: G3 Systems article in ROOM Space Journal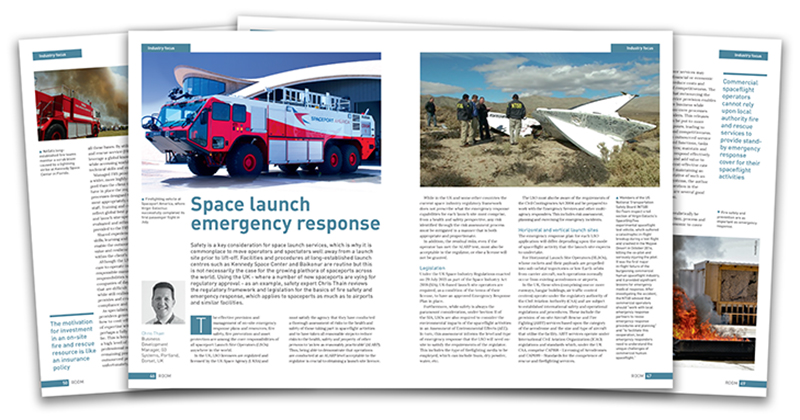 G3 Systems Business Development Manager Chris Thain reviews the regulatory framework and legislation for the basics of fire safety and emergency response, which applies to spaceports as much as to airports and similar facilities.
To access the full article please click on the logo below.

NEWS: G3 Systems article in Advance magazine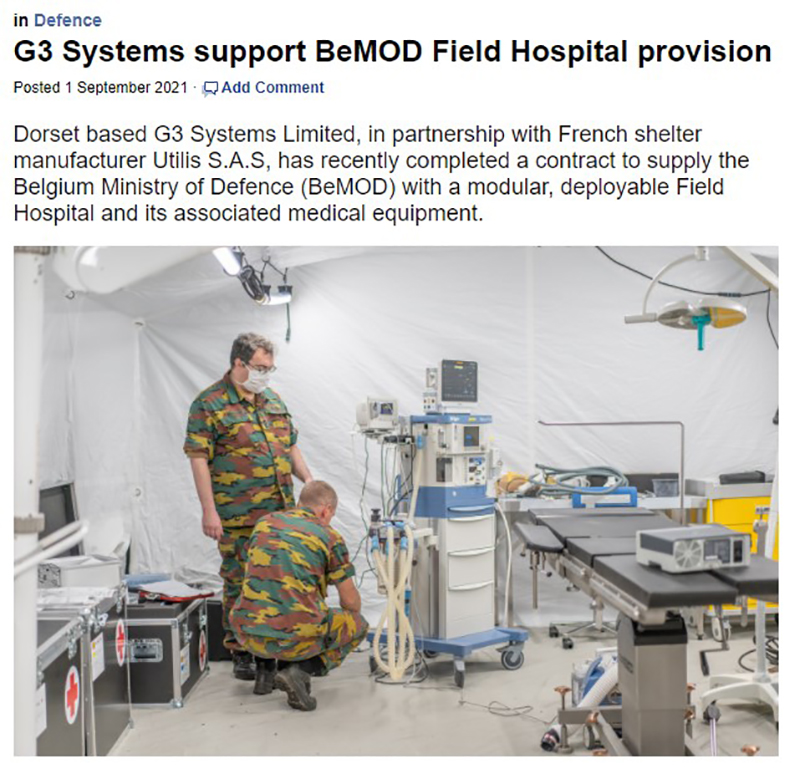 The article talks of G3 Systems involvement in BeMOD Field Hospital.
To access the full article please click on the logo below.
NEWS: G3 Systems article in International Fire Fighter magazine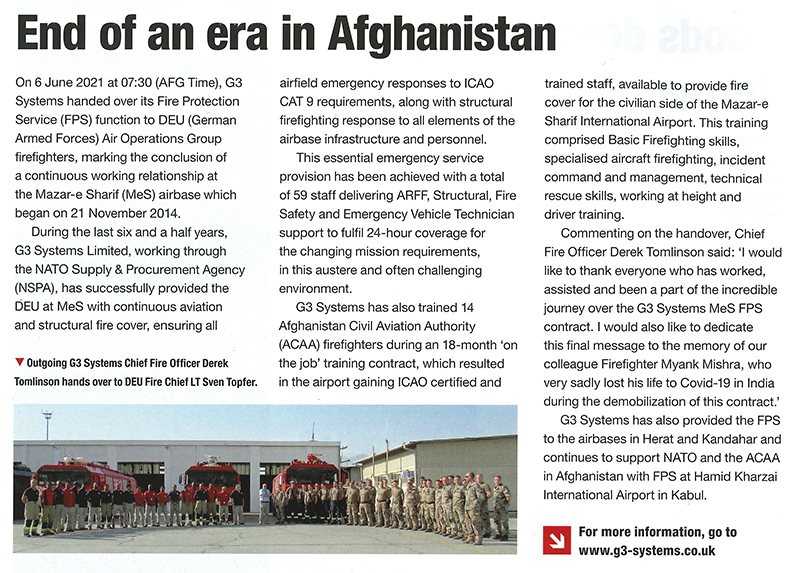 An article in International Fire Fighter on G3 Systems Fire Team last few days in Mazar-e-Sharif, Afghanistan.
NEWS: Armed Forces Covenant Silver Award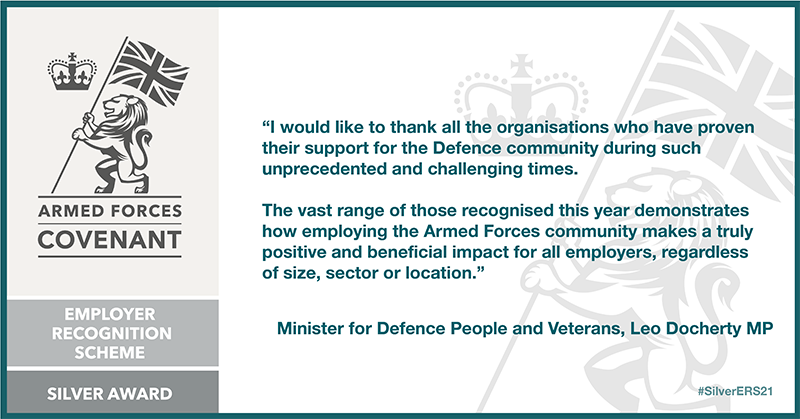 G3 Systems Ltd is delighted to have revalidated its Silver Award under the Armed Forces Covenant Employer Recognition Scheme. As a long standing defence contractor, celebrating our 20th Anniversary in 2021, we are proud of the support we have provided to the nation's armed forces at home and abroad throughout the past two decades and through our employment of veterans, who make up around 35% of our work force. We strongly believe in the value that veterans bring and look forward to continuing to support the aims of the Armed Forces Covenant.
NEWS: G3 Systems article in Asia Pacific magazine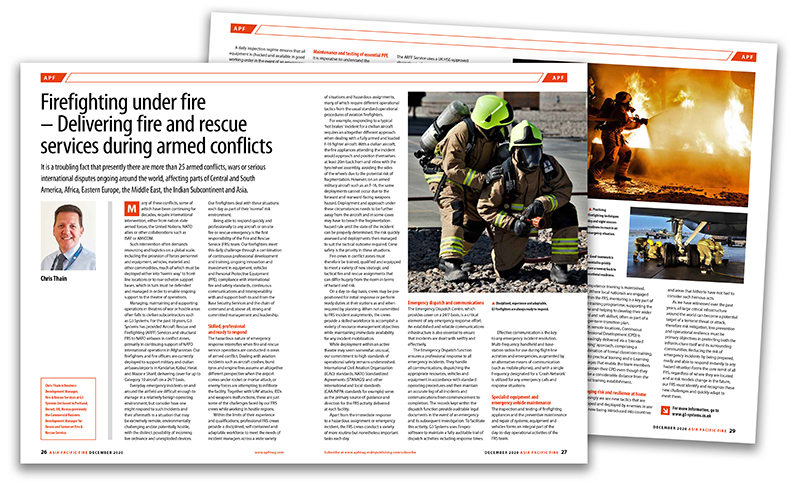 This feature article in Asia Pacific Fire magazine studies how Fire and Rescue Services can be delivered during periods of armed conflict.
To access the full article please click on the logo below.
NEWS: G3 Systems article in UK Fire magazine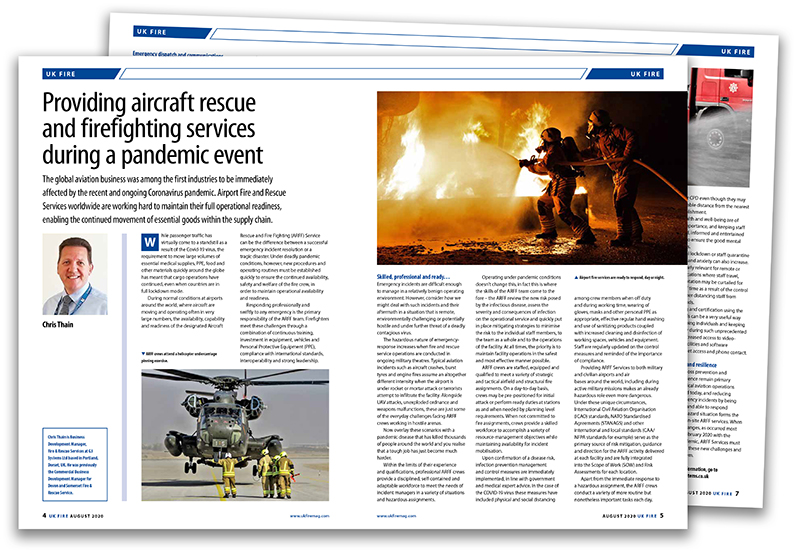 This feature article in UK Fire magazine considers how G3 Systems have provided ARFF services through the global pandemic.
To access the full article please click on the logo below.
NEWS: G3 Systems article in Fire Tribune magazine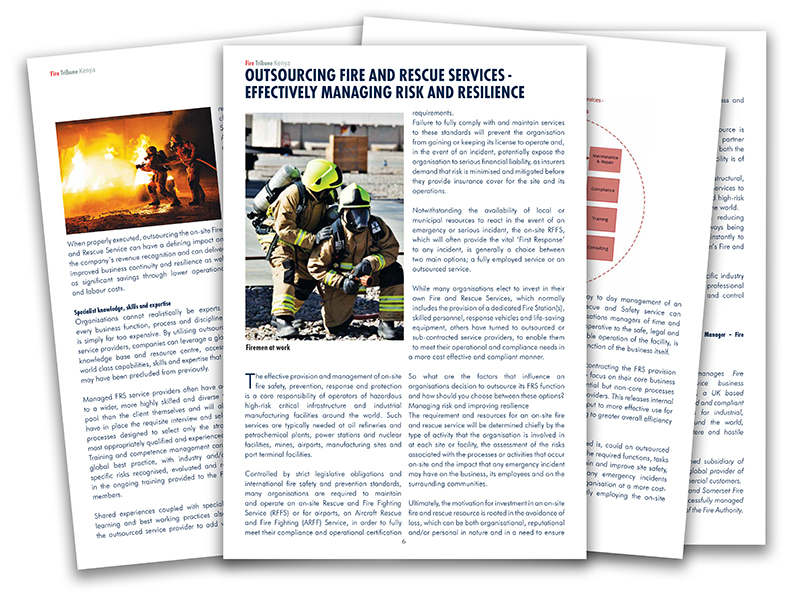 This feature article in the Fire Tribune magazine examines the benefits and implications of outsourcing on-site industrial firefighting services.
To access the full article please click on the logo below. Article on pages 8-11.
NEWS: G3 Systems article in Gulf Fire magazine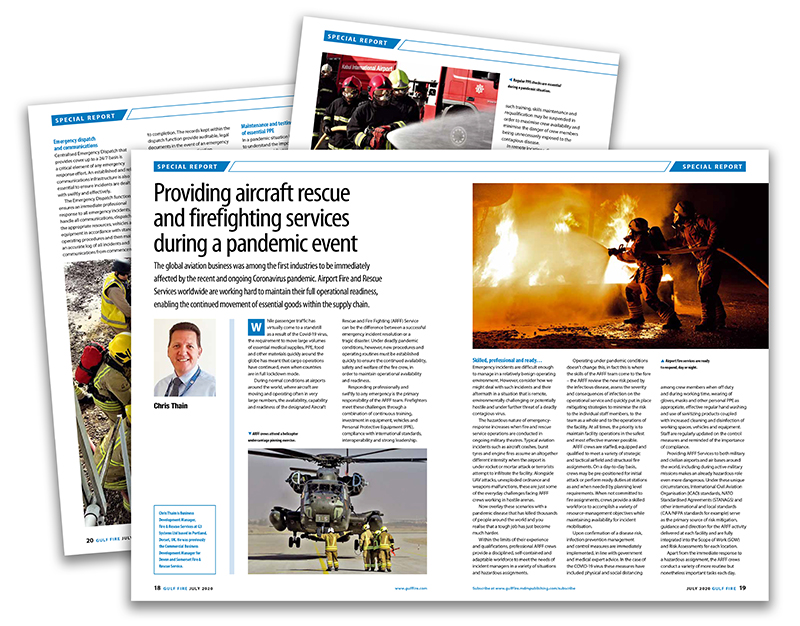 This feature article in Gulf Fire magazine investigates how G3 Systems have provided ARFF services through the global pandemic.
To access the full article please click on the logo below.
NEWS: G3 Systems article in JOIFF Catalyst magazine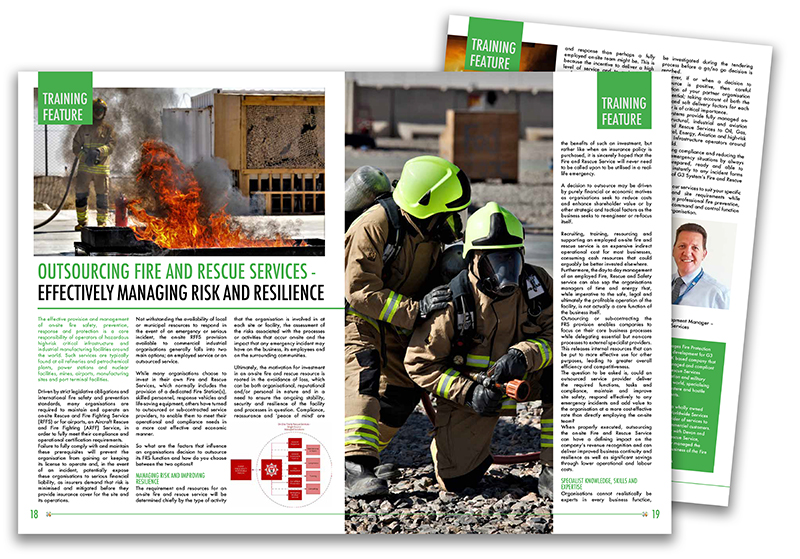 This feature article in the JOIFF Catalyst magazine examines the benefits and implications of outsourcing on-site industrial firefighting services.
To access the full article (Pages 18-20) please click on the logo below.
NEWS: G3 Systems article in the International Fire Fighter magazine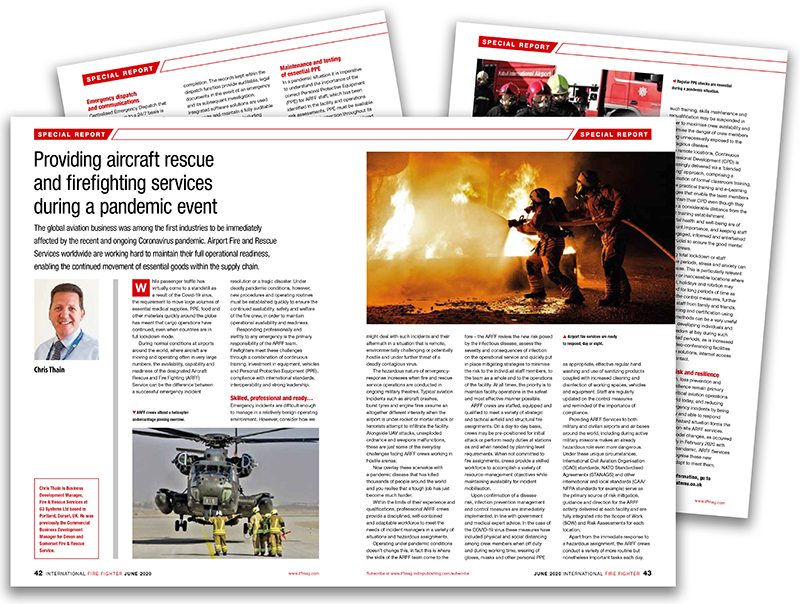 This feature article in International Fire Fighter magazine looks at how G3 Systems have provided ARFF services through the global pandemic.
To access the full article please click on the logo below.
NEWS: Welfare Packages for Afghanistan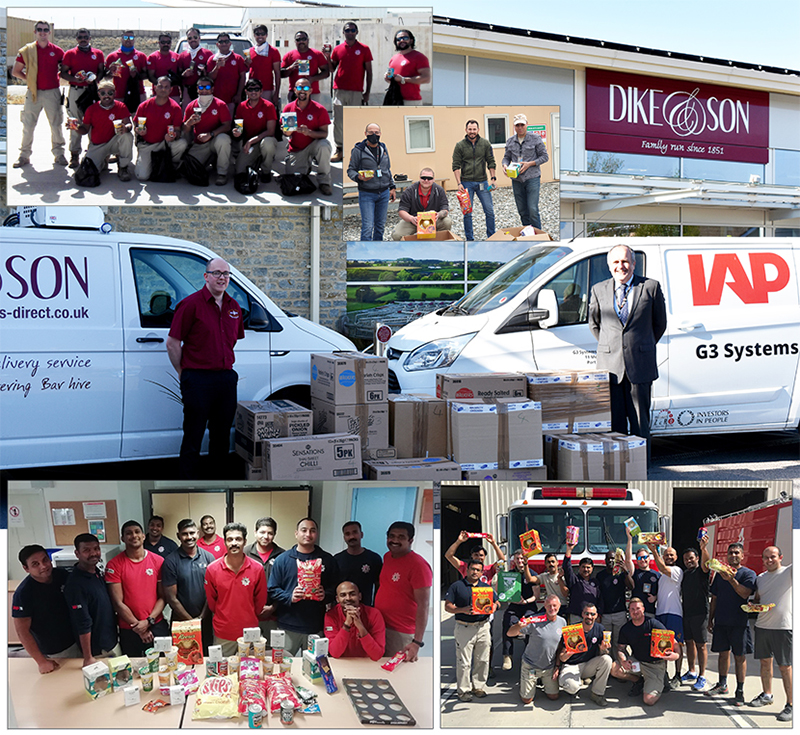 The onset of the CV-19 pandemic and the serious disruption it has created has been even more acute for the G3 teams in Afghanistan. We have some 337 personnel from 25 nations deployed across the four main NATO bases (Herat, Kabul, Kandahar & Mas e-Sharif): due the combination of global travel restrictions and varying degrees of lock down in people's home nations, they have seen their leave cycles stopped and life on base severely restricted.
Despite this, they have continued to maintain their high standards of professionalism and performance delivery; even finding time to join in the weekly applause for the UK NHS. We continue to do what we can to manage the situation and support our colleagues. This has included sending out welfare packages to the team and we are delighted that Dike and Son, a local independent supermarket chain saw fit to help us by providing items for inclusion in the packages. Our Operations Director Nick Broom collected the packages from the Stalbridge store himself and as we speak the packages are arriving at the bases in Afghanistan. Our heartfelt thanks to Andy Miles, Assistant Store Manager at Stalbridge and the Dike and Son team for stepping up so generously.
Nick commented: "Having met our teams in person in Afghanistan, I cannot commend them enough and I am personally grateful to each and every one of them for the sacrifices they are making. This is a small gesture that cannot compensate for the impact of CV-19 on their lives, but it is to let them know they are not forgotten and to assure them we will do everything we can to support them through these difficult times.."
NEWS: Army's AS90 Turret Trainers combined at one site
Our long association with MOD DE&S and the Royal Artillery has continued, as our Field Service Engineers have been hard at work, alongside Royal Artillery, MOD DE&S and MOD DIO colleagues, on the project to relocate the Army's AS90 Turret Trainers.
The trainer was first introduced in 2005 to allow gun crews to practice their routine firing drills, turret operating procedures and crew duties without the expense of live firing. The system offers the immersion and realism of firing, with a reduced safety risk and a highly reduced operating cost.
The systems were originally manufactured by Van Halteren Defence, with whom we have a long and close business relationship. Since their introduction, our Field Service Engineers (FSEs) have been responsible for the operation and maintenance of the system to support the British Army's Artillery units in conducting training drills.
Based on a real AS90 turret, the trainer uses an electro-mechanical system to fully replicate a complete firing cycle. This includes the weight and size of the artillery rounds and the noise and turret movement on firing. Since the trainer was introduced thousands of Gunners soldiers have used the equipment. The systems include video playback to analyse training performance.
Previously the two systems were in separate locations in the UK and Germany and they have now been relocated to into a combined facility at the RSA Larkhill, which was officially opened by Commander 1st Artillery Brigade.
It's good to see the systems back in action and now they are co-located at the RSA they will provide an even better training capability, which we are proud to support.
NEWS: Deployable Engineering Workshop – Training for the Royal Engineers
Recently our hard-working Training Team have been deployed alongside our Royal Engineers customers, helping them to reacquaint themselves with the Deployable Engineering Workshop (DEW). The DEW was designed and delivered by G3 Systems to the Royal Engineers over a decade ago and has delivered sterling service in supporting training across the world and on operations in Afghanistan and the Middle East.
G3 Systems has delivered training to numerous Royal Engineer units across the years. This latest session was successfully delivered to 65 Field Squadron, 35 Engineer Regiment at Kinloss, Scotland in March, before full COVID-19 restrictions were imposed.
On this occasion our team – Chris Lacey, Paul Robson-Rowell, Mike Russell and Ashley Wagstaff – deployed to Kinloss to deliver the established training programme in reverse order, taking the DEW down before rebuilding it to leave the users with a constructed system on completion of training. This was the first-time training had been delivered in this way and was extremely effective.
It was important to deliver this training for 65 Squadron – originally to prepare them for a deployment to carry out construction tasks at BATUS in Canada, but now possibly for them to use DEW on operations closer to home. G3 Systems is, as always, proud of our long association with the Royal Engineers and we wish all Sappers well in meeting the challenges of the COVID-19 pandemic. We also recognise and the professionalism and commitment of our G3 team, who ensured that the training was delivered, even as the COVID-19 situation was becoming more fraught.
NEWS: G3 Systems awarded Investors in People Silver accreditation
We are delighted to announce that Investors in People (IiP) have just awarded us their Silver accreditation. We've been committed to IiP for some 6 years as we feel it reflects our commitment to all the members of our G3 Systems family and enables us to benchmark how we look after our people. The Silver award is a great achievement and is something that only 15% of the organisations that IiP assess obtain.
It also reflects the participation of our team in the review process: getting the Silver accreditation has allowed us to confirm what we are doing right, but also where we can improve and keep moving forward. G3 Systems' HR team is now putting in place an action plan to build on what we learned from the IiP assessment.
To all our G3 colleagues – congratulations on this achievement and your part in it; and thank you for the feedback which will enable us to grow and develop as a team and a business in the future. Well done!
NEWS: G3 Systems article in Tank News International magazine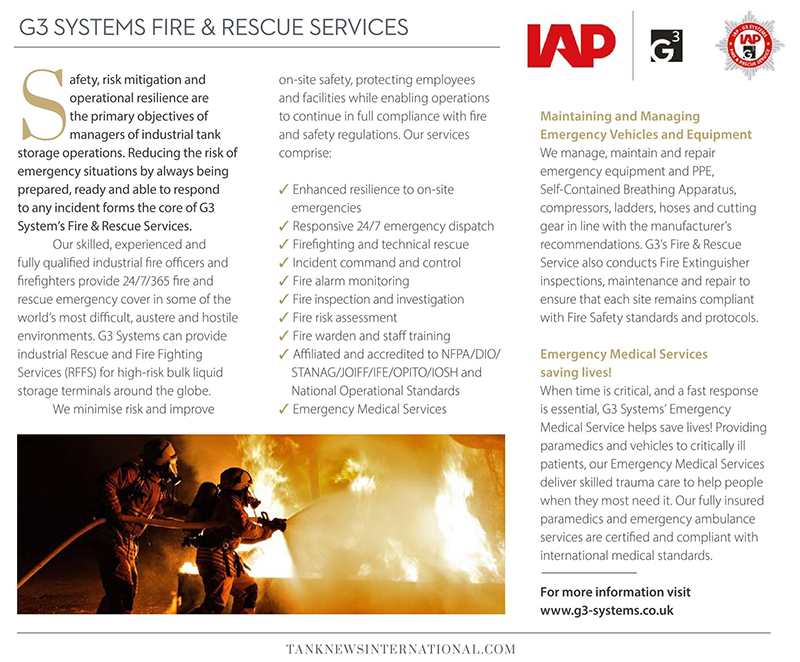 The article highlights G3 Systems Fire Protection Services and capabilities towards the Tank Storage industry.
NEWS: G3 Systems article in Fire Middle East magazine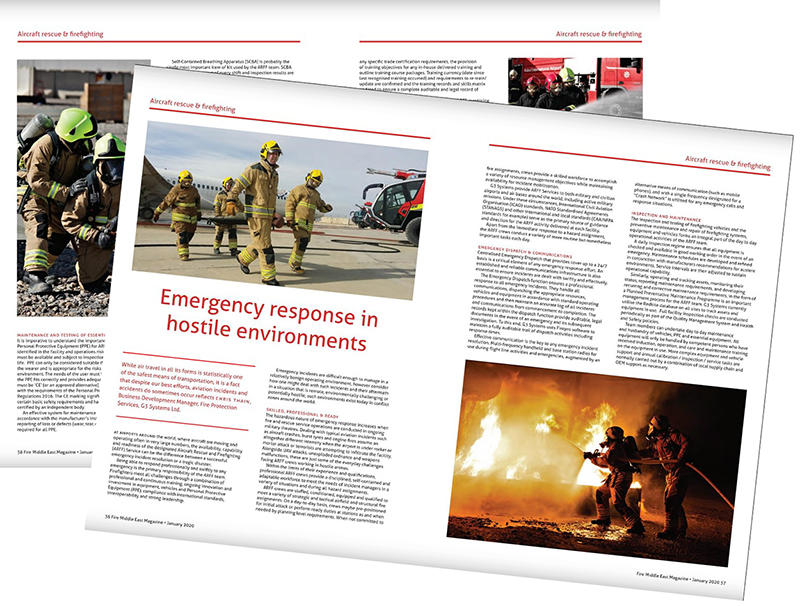 This feature article explores the topic of emergency response in hostile environments – Fire Middle East magazine – January 2020 – Pages 38-41.
To access the full article please click on the logo below.
NEWS: G3 Systems to provide a Modular Field Hospital to Belgian Ministry of Defence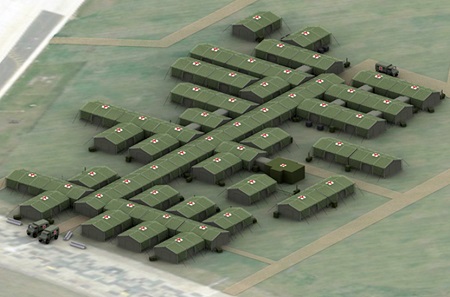 G3 Systems, in partnership with French shelter manufacturer Utilis S.A.S, has recently won a contract to supply the Belgium Ministry of Defence with a modular, deployable Field Hospital. The competition also included bids from Saab and a Dutch-US team of 4 Lutions & Alaska Shelters.The initial procurement, valued at some US$13.2M, will provide a Role 2 Enhanced Field Hospital, comprising some 54 tents, a medical incinerator and medical equipment ranging from stethoscopes to x-ray machines and a telemedicine system. An additional 19 tents were procured to form the basis for a Role 2 Basic Hospital.
G3 Systems will provide the medical equipment and incinerator whilst Utilis will manufacture the tents and provide the supporting infrastructure. Production will commence in June with delivery to be completed by March 2021. All hospital infrastructure and medical equipment will be consolidated and packaged at Utilis' facility at Ennery, near Metz in north-west France prior to delivery into Belgium. The value of G3 Systems' share of the initial procurement is US$7.2M. We also expect additional equipment purchases in the future to fit out the 19 shelters for the Role 2 Basic system.
A full set of technical documentation will be compiled by G3 Systems and training will be provided to the Belgian Armed Forces end user.
Following the completion of the initial equipment procurement phase, a 10 year support service will commence. This will see G3 Systems provide a team of deployable, Field Service Engineers (FSEs) to provide maintenance support for the Belgian MOD on training and operational deployments, coupled with routine maintenance, spares provisioning and options for further equipment procurement. The anticipated value to G3 Systems is US$4M, operational and training deployments may see this increase.
G3 Systems' Capture Manager, Andy Francis said: "We have worked with Utilis on past projects and were delighted to see the team win this tender. G3 Systems' ability to source and procure the medical equipment for the hospital and our experience of deploying FSEs into hostile operational areas were the capabilities Utilis needed to build the winning team. We are now looking to market this capability to other militaries seeking deployable field hospital capability solutions."
NEWS: G3 Praised for Ground Emergency Response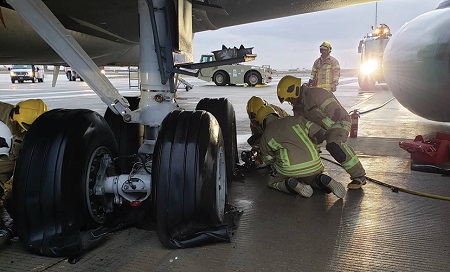 When a Heavy KC 135 blew 8 of its tires at 3:11 on a Saturday morning on a particularly aggressive landing the KAF G3 Emergency Response team were ready to roll. Responding in only 2 minutes the G3 Fire Crews were able to quickly assess the situation, set up incident command and assist in the safe recovery of the plane.
LT Col Kidd of the US Air Force wrote "a few words to express our gratitude for Leon and the entire fire/rescue/crash team for their response and assistance during yesterday morning's event involving the KC-135 and its 8 blown tires. Our 4 hour 28 minute resolution of the incident was possible because of the professionalism and assistance of your personnel, to include providing hot coffee, tea, and cookies to the additional responders who were working in the cold, wet conditions of yesterday, early morning."
NEWS: 18th Building handed over to DIO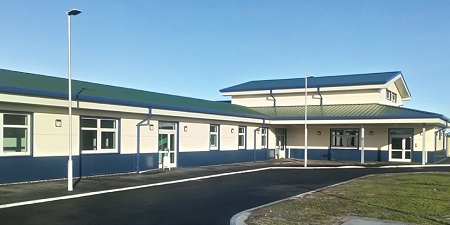 On 27th September 2019 G3 reached an historic milestone with the 18th facility handed over to the DIO in the shape of the Mount Pleasant Primary School on the Falkland Islands.
Started in 2016 the school is a replacement for the existing building at Mount Pleasant that was constructed after the Falklands War ended in 1982.
Now way past its useful service life G3 tendered and won the contract to build the replacement which is a high tech building with ultra-modern facilities throughout including interactive whiteboards in every room and a state-of-the-art building management system controlling the ambient temperature of each of the 5 classrooms all year round.